Go Big with Your Home Theater Installation Project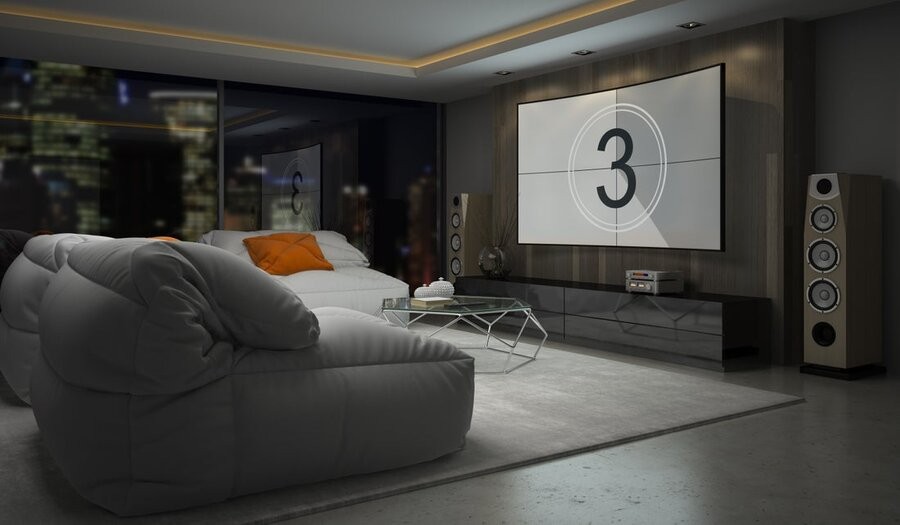 Check Out the Home Cinema Setup We Designed!
The right home theater installation and design add professional touches to every aspect. From the stunning audiovisual equipment and the plush and perfect seating to the room's acoustics - every part of your home cinema is an essential piece.
A custom theater is a must for your St. Louis, MO home's entertainment - but what does the ideal setup look like? At The Sound Room, we design and install custom home theaters that impress from the moment you step in and press play.
Learn more by reading below!
SEE ALSO: Work with The Sound Room for Your Next AV Installation
What Does the Ultimate Home Theater Design Entail?
Imagine a 120" display (that's a 10-foot screen!) and unparalleled surround sound setup to draw you into every media performance. With an Epson 4K video projector, an Onkyo surround sound receiver, and five speakers and a subwoofer from Paradigm, you can experience a viewing that transports you with high-fidelity audiovisuals as you've never seen before. Add a Sony premium 4K blu-ray player, surge protector, and professionally calibrated wiring and cables, and you have a high-end home theater system that always delivers a consistent performance.
Starting at $8699, this home theater setup can be a reality in your own home. Then, have our team at The Sound Room install every component with careful precision and detail, adding luxurious seating and acoustic treatments to ensure the ultimate performance and playback every time.
Experience the Home Theater for Yourself!
Want to check out this home cinema design for yourself? Come visit our showroom and see this design and setup in person, taking in its visuals and soundscape, so you can get a full feel for how it can soon be a part of your home.
Ready to bring this high-end AV installation to your property? Give The Sound Room a call or fill out our online contact form here. We can't wait to hear from you!
Stay Informed
When you subscribe to the blog, we will send you an e-mail when there are new updates on the site so you wouldn't miss them.