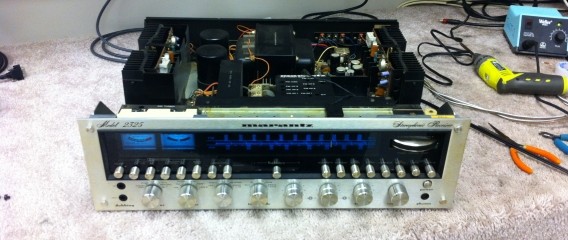 As many of you may know, The Sound Room recently acquired St. Louis CompuTronics, a professional and consumer audio/video equipment repair company. We wanted to offer our customers an option to repair their products by expanding into the service industry. We've already had some amazing repairs for our customers, and we wanted to share a few repair stories. Often times, these pieces of audio or visual equipment hold sentimental value to the customer, and they don't want to part with those memories. Jeff Jackson, the Chief Electronic Technician, does an excellent job of taking these outdated pieces of equipment, and making them operate like new. Here are a few recent repair items we've seen with their stories.
In these photos you can see a 45 year old stereo receiver that we are in the process of refurbishing for a client.  We are replacing the lamps on the faceplate, cleaning the internal workings and realigning the tuner.  This stereo receiver is proof that if you spend the extra money to get a really good, high quality receiver, it will truly last you a lifetime. One reason the client chose us for this repair, was out fast turnaround times and competitive repair rates. They will have their beloved stereo receiver returned to them in a matter of days, which is a factor that sets us apart from the competition.
Another client came in this week to have us service and refurbish seven McIntosh pieces that were given to him by his uncle. These vintage pieces are from 1965 to 1979. As you can tell, this family has excellent taste in audio equipment! These McIntosh systems have survived the test of time, providing an entire family exquisite audio experience for 50 years! When Jeff is done servicing these McIntosh pieces, they will look and operate like new for another several decades.
Here is some feedback we received from one of our recent McIntosh repairs.
"I recently had an MC2105 in for repair. I picked it up Tuesday and following a chilly ride home, let it sit overnight to warm to room temp. I reconnected things yesterday and am absolutely delighted. It sounds wonderful. I'm thoroughly enjoying the renewed listening experience after a nearly seven-week absence. I feel fortunate to have found you guys."
-David E.