ENHANCE YOUR HOME'S INTERIORS WITH MOTORIZED SHADES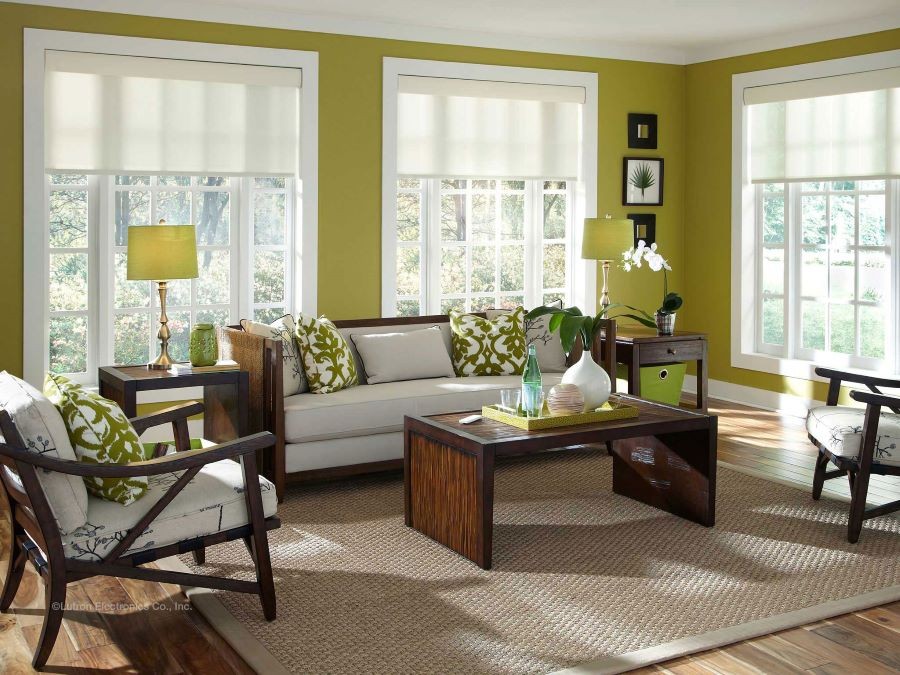 LET YOUR SMART HOME MANAGE DAYLIGHT EFFORTLESSLY
The art of daylighting is becoming increasingly popular among homeowners, designers, and builders. It uses windows and skylights to bring the beauty of sunlight indoors, enhancing your home's aesthetics while reducing energy consumption and providing the sun's healing effects. Rooms bathed in daylight feel energized, colors appear more vibrant, and textures reveal their true dimensions.
The best way to incorporate this light is by adjusting your window coverings as the sun arcs across the sky, letting in just enough diffuse light while limiting solar heat gain in the summer and retaining warmth in the winter. Yet, according to a study by the U.S. Department of Energy (DOE), a home's window coverings are rarely adjusted, with an estimated 75% remaining in the same position every day. 
Fortunately, there is a way to create a space of beauty that takes advantage of daylight, and it's the one recommended by the DOE—motorized shades. Let's explore how they operate and enhance your home's design in Chesterfield, MO.
SEE ALSO: Frequently Asked Questions Regarding Home Lighting Automation
The Benefits of Sunshine
Over the ages, our bodies have learned to adapt to the changing levels of natural light. When sunlight enters our eyes in the morning, we create serotonin, a hormone associated with enhanced moods and productivity. When light touches our skin, we make vitamin D, supporting our immune system. And when dusk arrives, our bodies produce melatonin, helping us sleep.
This adaptation worked well when we spent much of our time outside. Today, however, the U.S. EPA believes Americans spend about 90% of their time indoors, disrupting this delicate cycle. Motorized shades change that scenario, bringing in the diffuse light of the sun while protecting your home from harmful UV rays.
Effortless Control of Daylight with Motorized Shades
Motorized shades offer one-touch control via elegant keypads, touchscreens, remotes, and even your smartphone. With one tap, you can manage every window covering, no matter where you are. At The Sound Room, our integrators also use sensors to program your shades to automatically raise and lower based on the time of day and the sun's position. 
For instance, your shades can slowly open every morning, gently nudging you awake with the sun's first light. During the day, they adjust as the sunlight changes positions. On north-facing windows that receive even, natural light and little excessive summer heat or glare, they may remain open for a significant part of the day.
Shades on east and west-facing windows may open in the mornings and late afternoons while closing during the heat of a summer day. As the shades rise and lower, your electric lights automatically adjust, maintaining the perfect environment. When darkness falls, your shades lower, ensuring privacy. 
Beauty By Design
At The Sound Room, we partner with Lutron, the world leader in lighting control. Their automated shades come in eight different styles and over 1,000 materials and fabrics curated from world-leading textile mills. From motorized roller and Roman shades to Venetian and horizontal sheer blinds and draperies, we can ensure the perfect solution for every window.
Are you ready to explore the incredible possibilities in today's motorized shades? To learn more or to schedule a complimentary consultation, contact The Sound Room today.
Stay Informed
When you subscribe to the blog, we will send you an e-mail when there are new updates on the site so you wouldn't miss them.